May 3, 2022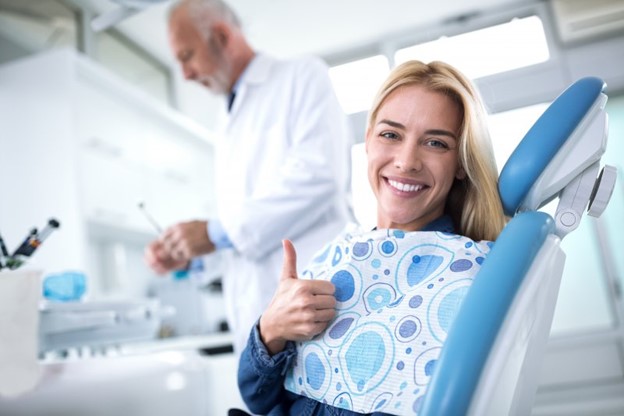 If you're unhappy with aspects of your smile, your situation isn't hopeless; a smile makeover might be the perfect solution for you! By combining certain cosmetic and restorative treatments, your dentist can help you meet your smile goals and give you the pearly whites you've always dreamed of. That said, you might have some initial questions about the process. Keep reading to learn more about smile makeovers, along with five questions you should ask your dentist before getting started.
1. "How Long Will My Smile Makeover Take?"
You should ask your dentist about the estimated time required to perform your smile makeover before making a commitment. Different smiles have different needs, and the overall length of the process will depend on the amount of work that your mouth needs. If one or two dental procedures are all that's necessary, it might be possible to complete the makeover in as little as one visit. However, if extensive work and repair is required, you can expect to schedule multiple appointments.
2. "What Dental Issues Can a Smile Makeover Correct?"
Dental technology has come a long way in recent years, and professionals can now correct just about any dental problem with a smile makeover procedure. Chipped and fractured teeth, staining and discoloration, uneven or disproportioned teeth and more are all easily treatable through a variety of different methods.
3. "Will My New Smile Look Natural?"
Dentistry is a form of art, and your dentist will do their best to enhance your smile while keeping it natural in appearance. Not only will your teeth look great; they'll feel great, too! Whether it's a simple whitening procedure or a new row of glistening porcelain veneers, your results will look aesthetically pleasing and very natural.
4. "How Long Will My New Smile Last?"
No dental treatment or procedure will last forever; that said, your dentist should still have the skills and work ethic necessary to provide you with lasting results that are well worth the investment. Provided you practice regular oral hygiene, you can keep your results intact for up to a full decade—but you should consult with your dentist to hear their plan to maximize the longevity of your restoration.
5. "Can I See Before/After Photos of Other Smile Makeovers?"
Most dentists are more than happy to show off their work; many of them take a great amount of pride in it! That said, consider asking to see some before/after photos of other patients who've received a smile makeover. This can help to inform you about what your new smile will look like while giving you an example of what your dentist is capable of!
A smile makeover can be a big commitment; however, it is certainly worth it, given the impressive results that can be achieved! Talk with your dentist and ask them these questions if you're interested in receiving a smile makeover.
About the Practice
Whitinsville Family Dentistry proudly serves patients and families in the Whitinsville area under the leadership of four skilled specialists: Dr. Jason R. Tubo, Dr. Swati Agnihotri, Dr. Marc Bou-Abboud, and Dr. Sonya Shafique. Together, they combine several collective years of experience and expertise to provide an elite-level of dental care for all their patients. If you have any questions about smile makeovers or would like to schedule an appointment, you can contact the practice online or by phone: (508) 234-8107.
Comments Off

on 5 Questions You Should Ask Before a Smile Makeover
No Comments
No comments yet.
RSS feed for comments on this post.
Sorry, the comment form is closed at this time.