Dental Implants – Whitinsville, MA
Effective, Reliable Tooth Replacement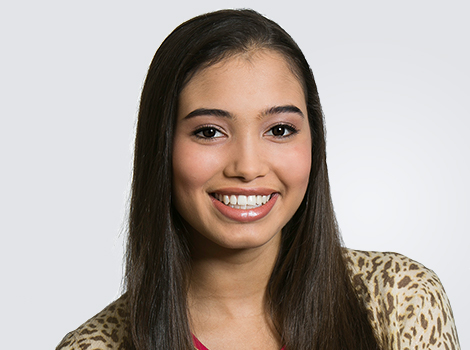 While there are multiple methods to replace teeth, dental implants in Whitinsville are the only solution designed to replace both the root and the crown at the same time. With this form of replacement, you're getting a tooth that most effectively resembles natural tooth structure. Thanks to their versatility, you can even replace several teeth at a time, including an entire arch, with the help of dental implants. To learn if you're eligible for treatment from our qualified dentists, call our dental office today!
Why Choose Whitinsville Family Dentistry for Dental Implants?
Dental Implants Placed & Restored In-Office
Computer-Guided Dental Implant Surgery for Safer, More Precise Treatment
In-House Dental Financing Available
What Are Dental Implants?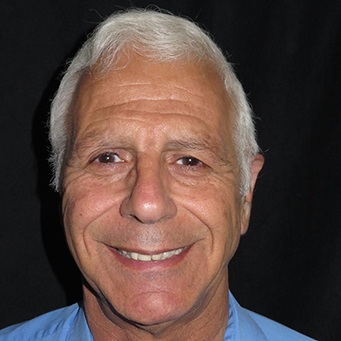 A dental implant is a small titanium post that is surgically placed in the jawbone to act as an artificial tooth root. Titanium is a biocompatible material, allowing the implant to permanently fuse to your jaw. The result is a sturdy and stable foundation for your replacement teeth. After we install metal fixtures called abutments atop your implants, we can place your custom-made dental crown, bridge, or denture, completing your smile with a solution that looks as natural as it feels.
The 4-Step Dental Implant Process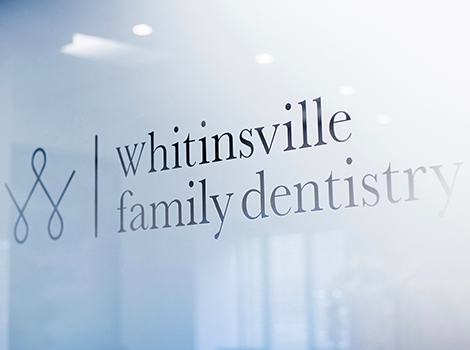 The process of receiving your dental implants is one that requires time and patience, but you can feel confident knowing our team will be with you every step of the way. As a Fellow of the American Dental Implant Association, Dr. Jason Tubo can actually perform every part of the dental implant procedure right here in our office, making the treatment more convenient. While the tooth replacement process will differ from patient to patient, there are four basic steps that everyone goes through.
Initial Dental Implant Consultation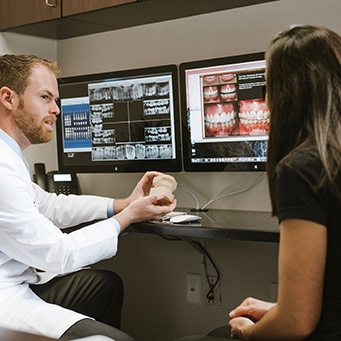 The initial consultation is the most important part of the entire dental implant placement process. Why? Because it allows us to fully examine your smile and map out a thorough treatment plan for your new smile. Using a CT/Cone Beam Scanner, your dentist in Whitinsville will capture a high-resolution, 3D cross-section of your jaw, teeth, and entire facial and oral structures in one minute.
Also, Dr. Tubo will take digital impressions of your teeth, gums, and jaw, creating 3D photos. In reviewing the images captured by both the CT Scanner and the digital impressions system, he can identify if there are areas of the bone that need additional growth, which would require a bone graft or sinus lift.
Once he has the X-Rays and photos, he will then use what is known as a SICAT Implant Surgery Guide. This piece of advanced dental technology makes it possible for us to provide a more accurate and precise treatment plan, making sure all your implants are going in the correct locations and at the ideal positions. It is even possible for Dr. Tubo to create a temporary crown before the implant has been created.
Dental Implant Surgery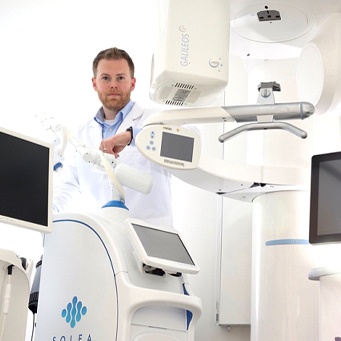 Should you require any pre-dental implant surgery (i.e., bone graft, sinus lift), you will need to fully heal before moving forward with your dental implant placement. Once you are cleared for surgery, our team will use the guide created during the consultation phase to pinpoint the exact location for your implants. After administering a local anesthetic and/or sedative, we will use titanium posts and surgically place them into your jawbone. Once the tissues surrounding the implants are sutured, you will be required to spend the next three to six months at home recovering.
Dental Implant Osseointegration/Abutment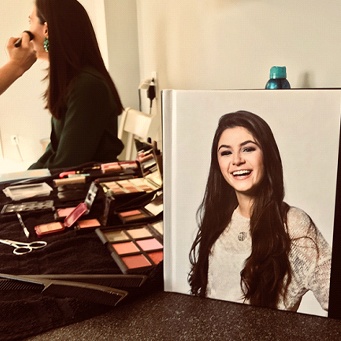 Because your implants are mimicking natural tooth roots, it is necessary for a process known as osseointegration to occur. This is when the implant fuses with the bone and surrounding tissues. Once this is complete, you will have a solid, firm foundation for which your restorations can sit atop without problems.
After the healing process is complete, you will return to our office to have your metal abutments put into place, which are the small connectors that make it possible for your restoration to sit on top of your implants.
Delivery of Dental Implant Restorations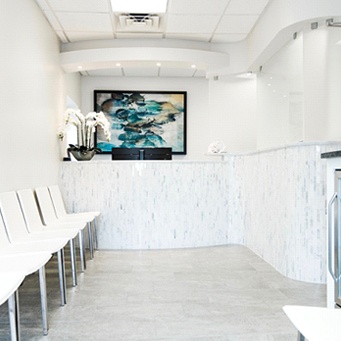 The final stage of the implant placement process is receiving your customized restoration. Whether you need a dental crown, implant bridge, or implant denture, lab technicians will create a prosthetic that meets the specifications put forth by you and our team. Once secured into place, you will notice a fully restored smile that is beautifully blended and natural in appearance.
Benefits of Dental Implants
Because dental implants are designed to replace the root, that means the titanium post that mimics its structures needs to integrate with existing bone tissue. Titanium is biocompatible, which means it is designed to integrate with the existing bone and soft tissue without worry of rejection. It's this process, known as osseointegration, that gives your replacement tooth the long-term durability, functionality, and aesthetics that dental implants are known for. Eating your favorite foods feels natural, whether it's apples, steak, nuts or any other tough or crunchy substance.
Furthermore, dental implants are proven to last longer on average than other tooth replacement options. They typically last at least 25 years when properly maintained, but most people who have dental implants have them for life without needing any type of replacement. Dental implants are also incredibly safe, averaging success rates as high as 98 percent, even after 10 years of use.
Who Dental Implants Can Help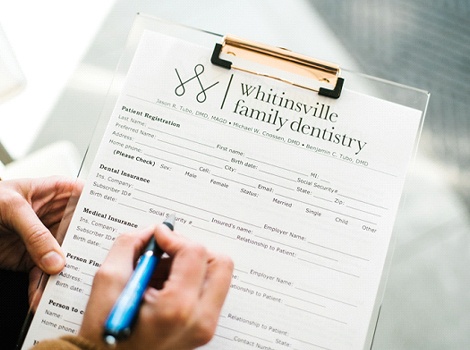 On top of their function, longevity and natural-looking characteristics, dental implants are incredibly versatile. Our dental office can design and create a restoration that fits on top of dental implants and replaces single, multiple or all teeth at once!
Missing One Tooth
A single tooth can be replaced via one titanium post and one dental crown. Attaching the two components together is a metal connector known as an abutment. This keeps the porcelain crown stable. Just make sure to clean it during your daily oral care.
Missing Multiple Teeth
Traditional bridges require you to remove the existing tooth structure of neighboring teeth so that the bridge can be properly anchored. Implant-supported bridges remove this potential issue entirely because a pair of dental implants replaces the need to modify existing tooth structure.
Missing All Teeth
Whether you want to fit dental implants with either a full or partial denture, dental implants can effectively do so. In fact, we do not even need to assign a dental implant to each replacement crown used. Most implant dentures use between four and six implants to hold an entire arch of teeth.
Learn More About Implant Dentures
Understanding the Cost of Dental Implants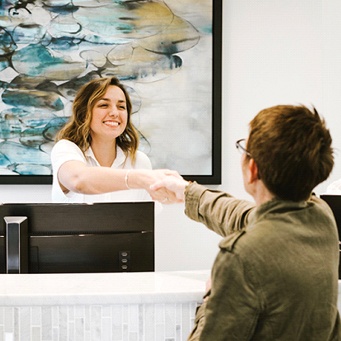 While dental implants can be incredibly versatile, their cost is not always so straightforward. During your consultation, we'll go over all of your needs ahead of time, including the number of teeth you need to replace, preparatory treatments designed to make your implant treatment viable (i.e. bone grafts, periodontal therapy) and the type of restoration needed to restore your smile, all of which come with their own unique costs. Regardless, dental implants are typically seen as more cost-effective compared to other solutions because of their longevity, function, and aesthetics. Think of them as a long-term investment for both your smile and your oral health.
Types of Dental Implants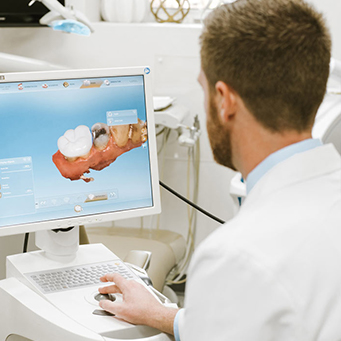 We have different types of dental implants depending on your pattern of tooth loss. For a single missing tooth, we can recommend an implant crown. If you're missing multiple teeth consecutively, you may benefit from an implant bridge. And, for full smile replacements, we can use implant dentures. The number of implants that you need will directly depend on how many teeth you're missing, which will affect the total cost of treatment.
What Are the Stages of Dental Implant Treatment?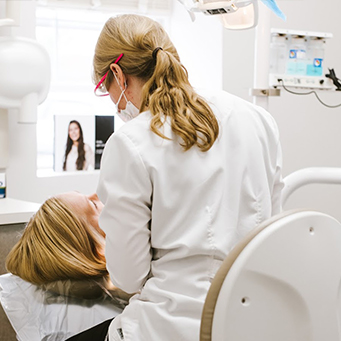 First, you'll come into our office for a consultation, where one of our experts will carefully examine your smile and the condition of your oral health. Any preexisting issues must be treated before receiving dental implants. After, you'll have your implant surgery, where we will place your dental implants. Next, there is a healing process called osseointegration that takes at least three to four months, allowing the implants to fuse to your jawbone. Then, we will attach your abutments (small connectors) before mounting your custom-made crown, bridge, or denture. Each stage of the dental implant treatment comes with its own separate cost.
Are Dental Implants Worth the Investment?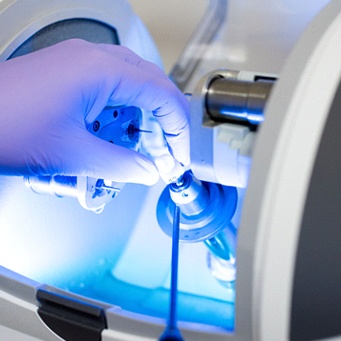 While dental implants do tend to come with a higher price tag than other replacement options, their benefits make them well worth it. Dental implants are the only tooth replacement option that stimulates the jawbone to prevent it from deteriorating. This saves you from additional tooth loss and it prevents a thinner, sunken facial appearance. Plus, because dental implants can last for a lifetime with proper care, you may even save money in the future by avoiding the need for replacements. Dr. Tubo uses all of the latest technology like intraoral cameras and a digital impression system for the most beneficial and precise results.
Does My Dental Insurance Cover Dental Implants?
Every plan is different, however dental insurance usually does not cover dental implants because they are seen as an elective procedure. Our team is committed to helping you receive high-quality and affordable dentistry, which is why we do our best to maximize your benefits when possible. Certain aspects of the implant procedure like your consultation, periodontal therapy and more may be covered by your insurance. Our front desk staff can help with any questions, and we have alternative financing available!
Dental Implant Technology
Dental implants have a history of predictability with an incredibly high success rate. However, as technology has progressed, dental implant placement and restoration have become even more successful than before. Dr. Tubo uses 3D CT scanning and guided dental implant surgery for unmatched precision, beautiful results, and lasting smiles, making it easier than ever for patients to enjoy this tooth replacement option.
3D CT Scanning
In some cases, 2D images and the naked eye are not enough to see the full picture. This is truer with dental implants than other procedures because it involves surgical placement in the jawbone. The Galileos CT Cone Beam Scanner allows us to capture a 3D cross-section of your teeth, jaw, and other areas of your mouth for a more comprehensive approach. This also eliminates the need for the messy putty used in the past. Instead, we can use digital impressions to plan your implant treatment! From the beginning, we can start with a precise map of your smile, so the treatment process goes as smoothly as possible.
Guided Dental Implant Surgery
As with other surgeries, the more predictable the treatment is, the more likely it will be successful. At Whitinsville Family Dentistry, we are always looking for ways to improve our already advanced treatment options, which is why we are now utilizing implant surgery guides from SICAT. This allows us to essentially conduct the entire surgery virtually before actually placing the implant. Subsequently, Dr. Tubo will know exactly where your implant or implants need to be placed even before making an incision in your gums. Our dental implant surgery guides allow us to treat even the most complex of cases, giving our patients dream smiles that can last for lifetimes.
Dental Implant FAQs
Dental implants have quickly become one of the most popular tooth replacement options because of their unique advantages like longevity, strength, and beauty. If you're considering this solution, you may be curious about certain aspects of the treatment process. That's why we've included the answers to some of the most frequently asked questions about dental implants. Keep reading to get the information you need for a confident decision when choosing this method of tooth replacement.
How Do Dental Implants Compare to Natural Teeth?
One of the main reasons that patients are choosing dental implants is their ability to feel, look, and function just like your natural teeth. This replacement is the only option that restores your entire tooth from the roots up, allowing you to confidently chew through even the toughest of foods without worrying about your smile coming loose. Plus, dental implants allow your restorations to mimic the way your natural teeth emerge from your gums for seamlessly beautiful tooth replacements.
Does Getting Dental Implants Hurt?
At Whitinsville Family Dentistry, patient comfort is our top priority, which is why we will ensure that you're numb and relaxed before beginning. We even offer sedation dentistry for a deeper sense of calm. You may hear about the surgical process and automatically assume that it's painful. However, patients who have gotten dental implants relate the procedure to a simple tooth extraction. Plus, the jawbone doesn't contain very many pain-sensing nerves, which is one of the reasons why dental implant procedures are much more comfortable than you may expect.
Will My Insurance Cover Dental Implants?
When considering dental implants, cost is usually a factor, and you're probably wondering about your insurance coverage. Unfortunately, most dental insurance plans do not cover implants. However, this will vary on a case-by-case basis. Usually, certain parts of the process may be covered, such as the consultation, but this will all depend on your plan. Our front desk staff is experienced in maximizing insurance coverage while minimizing your own cost.
What Should I Expect After the Dental Implant Procedure?
Once you've completed your dental implants procedure, it's completely normal to experience some soreness and slight bruising. However, this can be managed with the pain medication we give you and a using a cold compress to numb the pain. It's important to give yourself a few days to rest after the procedure. Because of this, many patients prefer scheduling their surgery on a Friday to give themselves the weekend to recover.
If you have any additional questions, contact our office today to speak with our friendly front desk team!