April 11, 2022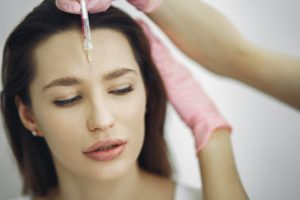 BOTOX in Whitinsville is a popular solution to turn back the clock by treating wrinkles and fine lines. However, there's a new injectable treatment gaining traction. Microdosing BOTOX offers the same benefits as the traditional method, but it uses multiple small doses to target specific areas of the skin. Unlike traditional BOTOX, microdosing doesn't smooth wrinkles. Instead, it helps reduce oil production, acne, and facial flushing. Here's what you need to know to determine if it's the right solution for you. 
What is Microdosing BOTOX?
Microbotulinum is a new method for treating specific issues using a less invasive approach. It involves injecting tiny botox microdoses into the superficial layer under the dermis. It targets fibers in the facial muscles to resolve skin issues that can lead to acne.
It involves using the FDA-approved neurotoxin that has been diluted, so it doesn't paralyze the muscles like the traditional method. Overall, it can reduce pore sizes and skin roughness to improve the appearance of the facial tissue.
Who Can Benefit from Microdosing BOTOX?
Microdosing BOTOX is safe and effective when administered by a trained professional, like your cosmetic dentist in Whitinsville. It's recommended for patients who are interested in a subtle cosmetic solution. Since it barely enters the facial muscles, it doesn't paralyze them like traditional BOTOX. Instead, it softens them to help patients overcome certain skin-related issues, like acne, redness, and excessive sweating. As a result, patients with dry skin may not make the best candidates for the treatment because it can worsen the condition.
What are the Benefits of Microdosing BOTOX?
Microdosing is rising in popularity quickly, and for good reasons. It's an effective method to conquer acne caused by oily skin while minimizing redness and sweating. It can also treat forehead wrinkles subtly. Although less BOTOX is injected, it offers the same benefits and results as the traditional injections. Your investment can last for 3 to 4 months.
Is It Safe?
Yes! Microdosing BOTOX is safe when used on the right candidate. The most common side effects include minor swelling, bruising, or redness at the injection sites. In rare cases, the needle used to inject BOTOX can hit a vein, causing occlusions. Some patients can experience weakened facial muscles after long-term use, which can affect your ability to make certain expressions.
Join the Trend Today
If you're tired of acne breakouts or excessive sweating, microdosing with BOTOX may be right for you. You can enjoy natural-looking facial rejuvenation without undergoing the knife. If you are ready to experience the trending aesthetic procedure, it's time to schedule your consultation with your cosmetic dentist.
About Dr. Jason Tubo
Dr. Tubo earned his dental degree from the University of Connecticut School of Dental Medicine and regularly continues his training in advanced specialties, like cosmetic dentistry. Besides creating healthy, attractive smiles, he also offers BOTOX. If you are ready to turn back the clock, contact our office today to schedule your consultation.
Comments Off

on Why is Microdosing BOTOX So Popular?
No Comments
No comments yet.
RSS feed for comments on this post.
Sorry, the comment form is closed at this time.