March 29, 2022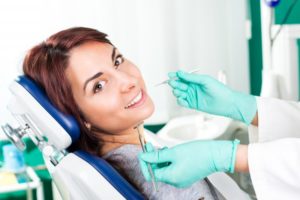 Every year, dental implants are chosen by over 500,000 people to replace missing teeth. Thanks to their incredible benefits, including strength, longevity, appearance, and much more, patients get to enjoy a completely renewed and full smile. One truly exceptional advantage is that they have a success rate of 95%. That said, there is a slight possibility that implants fail. Read on to learn exactly what to expect in the unlikely event of a failed dental implant.
Why Do Dental Implants Fail in the First Place?
The most common reason for implant failure is peri-implantitis, which happens when bacteria start eating away at the bone and supportive tissue around the dental implant. This will eventually cause them to loosen. While dental implants are incredibly predictable, they can fail at any point in time – whether it's a day after they are placed or years down the road. Sudden issues like injury to the mouth or face can potentially cause implant failure. Plus, tobacco use like smoking cigarettes will slow down the healing process while also promoting infection in the mouth.
The best way to protect yourself from implant failure is to proactively visit your dentist for routine checkups. They'll be able to catch any issues early on, potentially saving your dental implant. It's also vital to maintain a good oral healthcare routine at home, including regular brushing and flossing.
What to Expect for Failed Implant Removal
First, your dentist will review your medical history and carefully examine your mouth. Their main priority is to keep you healthy and comfortable. They will always ensure that you're numb and at ease before addressing your failed implant. Usually, dental implants in the lower jaw are more difficult to remove than those in the upper jaw due to thickness and density of the bone. Additionally, failed implants that are located close to upper sinuses or nerve structures will require some extra time and care. Your dentist will create a custom treatment plan based on your needs before extracting the failed dental implant safely and carefully.
Replacing Your Dental Implant
Bone grafting will typically be necessary in order to repair the affected area of the bone. This treatment also strengthens the jawbone, which will make it less likely for your new implant to fail in the future. Sometimes, dental implants can be placed during this same appointment as bone grafting, however this will vary on a case-by-case basis. It is possible that the damage is too large, creating a space in the jaw that won't allow for the placement of an implant. Usually, your dentist will provide bone grafting followed by a recovery period before placing dental implants.
Even though the chances are low, it's always good to be prepared. Keep this information in mind so you know just what to do if you ever experience a failed dental implant.
Meet the Dentist
Dr. Jason Tubo is a skilled dentist in Whitinsville who proudly offers the entire dental implant process at his convenient office. He uses the latest technology combined with extensive training to deliver predictable, long-lasting dental implants. Contact Dr. Tubo through his website or by phone at (508) 234-8107 to schedule an appointment.
Comments Off

on Everything You Need to Know About Removing a Failed Implant!
No Comments
No comments yet.
RSS feed for comments on this post.
Sorry, the comment form is closed at this time.