January 28, 2021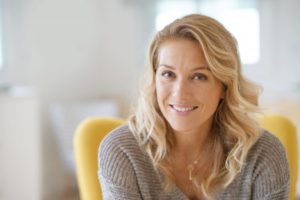 Veneers are one of the gifts of modern cosmetic dentistry, allowing patients to completely transform their smiles for absolutely amazing results. But did you know that they can be made of different materials? With composite and porcelain veneers available, how do you know which option is best for you? There are some key differences, each with their own pros and cons. Read on to learn about composite vs. porcelain veneers as well as which one is right for your smile!
What Exactly are Veneers?
Veneers are one of the most popular cosmetic services because of their dramatic results. These thin shells of either dental porcelain or composite resin are designed to conceal the entire front surfaces of your teeth, erasing flaws like chips, cracks, gaps, and discoloration in the process. Veneers can be used for a single tooth or a whole smile, and the number that you need will depend on your specific case.
The Benefits of Composite Veneers
Composite veneers come with a variety of benefits, but their primary advantage is cost. Typically, veneers made of composite resin, which is a special blend of durable plastics, will be about half the cost of their porcelain counterparts. This is important to note because most dental insurance providers won't cover veneers. Additionally, composite veneers can sometimes be placed and finalized in just one appointment, where porcelain will take at least two separate visits.
Why Choose Porcelain Veneers?
So composite veneers are cheaper and more convenient, why would you choose porcelain? Well, there is one category where there is simply no competition: durability. Porcelain veneers can last up to 15 years with proper care, but you can only enjoy a composite smile for between 5 and 7 years. Additionally, dental porcelain is relatively stain-proof, making it more difficult to discolor your veneered smile. Above all else, porcelain veneers look and feel closer to your natural teeth, making them the most beautiful and lifelike solution.
The Right Option for You
It's important to understand that no two smiles are the same, so you should really consider your specific needs. If you want a cost-effective and efficient treatment, choose composite veneers. However, if you want to make an investment in your smile, porcelain veneers can give you the results you're looking for with unmatched quality and durability. This decision is truly life-changing so take your time to think it through—the best part is that there are no wrong answers!
Veneers make it possible for you to achieve your dream smile. Now all that's left to do is to choose the best type for you and get started.
Meet the Dentist
Dr. Jason Tubo is a skilled cosmetic dentist who is passionate about helping his patients look and feel better. He's even published a book with over 50 cosmetic, surgical, and restorative cases he has treated in the past, showcasing his true artistry. To schedule a veneers consultation, he can be reached through his website or by phone at (508) 234-8107.
Comments Off

on Which Type of Veneers are Best for You?
No Comments
No comments yet.
RSS feed for comments on this post.
Sorry, the comment form is closed at this time.