January 27, 2021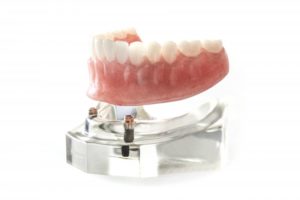 If you have dentures, you may have grown used to the way your prosthetic smile can slip and slide around. Of course, a mobile smile can cause embarrassment and irritation, so why live with an uncomfortable, unstable denture? Thankfully, your dentist can combine dental implants with your prosthesis to give you a sturdy, beautiful, and lifelike set of teeth. But how do dental implants work with dentures and what are the benefits like? Read on to get your answers!
But First, Why Do Your Dentures Slide Around?
Dentures rely on suction to stay in place, which is why it's possible for them to slip when you're eating, speaking, or smiling. Many patients rely on denture adhesive, but this is a hassle to apply and keep up with. Plus, over time, your dentures will lose their shape, causing them to fit less snugly.
How Can Dental Implants Help with Your Dentures?
After losing all or most of your teeth, you may have assumed you'll never enjoy a strong smile with dentures. However, dental implants could be exactly what you need! They are tiny titanium posts that get surgically placed in the jawbone to act as artificial tooth roots. Titanium is a biocompatible material, allowing them to fuse to the jaw so they can support numerous restorations, including dentures! An average of 4 dental implants can be used to stabilize your dentures, resulting in a smile that feels just like your natural one.
The Life-Changing Benefits of Implant Dentures
Once you have implant dentures, you'll experience better quality of life thanks to numerous unique advantages, including:
Bone health: Your jawbone needs stimulation from tooth roots to stay healthy and strong. Once you lose teeth, your jaw will deteriorate, causing a more sunken facial appearance. However, dental implants stimulate your jaw to prevent it from shrinking, which also improves your looks.
Strength: Enjoy the ability to chew through all your favorite foods thanks to a denture supported by dental implants.
Confidence: Have you hidden your smile or avoided speaking because of your dentures? With implant dentures, you can eat, speak, and smile with the confidence of knowing your teeth aren't going anywhere!
Longevity: Made of durable titanium, dental implants themselves can last for the rest of your life, which also extends the lifespan of your dentures.
Naturality: Rooted in the jaw, dental implants allow your dentures to look and feel more natural, giving you the most lifelike replacement available.
Eating great food and speaking with your friends or family should be enjoyable experiences, not irritating or embarrassing. Contact your dentist to change your life with a stable, strong set of teeth thanks to implant dentures!
Meet the Dentist
Dr. Jason Tubo has been awarded Fellowship status with the American Dental Implant Association in 2010, and Fellowship in the Academy of General Dentistry (FAGD) in 2014. He uses his extensive training and experience to place and restore dental implants at his hi-tech, comfortable office. To schedule an implant denture consultation, he can be contacted through his website or by phone at (508) 234-8107.
Comments Off

on Will Dental Implants Really Help Your Dentures? Find Out Here!
No Comments
No comments yet.
RSS feed for comments on this post.
Sorry, the comment form is closed at this time.