December 15, 2020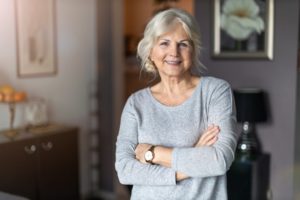 If you've lost all or most of your smile, you're probably one of the millions of people who rely on dentures. This prosthetic smile allows you to speak, eat, and grin when you couldn't before. However, do your dentures ever slip or slide? What may seem like a slightly annoying problem can turn into a potentially life-threatening issue. Kind of scary, right? That's why your dentist has included some important information on the dangers of slipping dentures in Whitinsville.
But First, How Do You Know When Your Denture Doesn't Fit?
Besides the feeling of your denture sliding around (which can often be addressed with denture adhesive), be on the lookout for these common symptoms of an ill-fitting prosthesis:
Broken teeth: Don't attempt to put your dentures back in if you break them by dropping or stepping on them. Fixing your teeth on your own may cause issues down the road.
Difficulty chewing: If you have trouble eating, it may be a sign that your dentures don't fit properly.
Discomfort: Possibly the easiest symptom to recognize, watch out for irritation in your mouth.
Pressure sores: When dentures rub on your gums, they can cause sores. Pressure should be evenly distributed throughout the prosthesis for the highest level of comfort.
Speech: If you notice that you're having trouble saying certain words that you could once pronounce, your denture may be slipping during speech.
What Are the Risks of Slipping Dentures?
The unfortunate truth about ill-fitting dentures is that they cause even more damage than some of the surface-level symptoms. Loose dentures can trap harmful substances like tobacco and alcohol between the prosthesis and your mouth, which leads to irritation and inflammation. While this issue may not cause a direct increased risk of oral cancer, it does contribute to gum disease and chronic inflammation that is linked to this life-threatening problem.
When your body responds to infection or irritation, it sends substances to fight them, which causes inflammation. In the long run, this inflammation may lead to permanent cell damage. Recently, gum disease has been linked to oral cancer, but this common infection can also lead to higher chances of heart attacks, strokes, high blood pressure, and more. That's because the inflammation can even impact your arteries, making it more difficult for blood to flow through your body and brain.
Thankfully, these issues are completely preventable as long as you have a nicely-fitting, comfortable, and stable denture. If you have any question about the fit of your prosthetic smile, be sure to contact your dentist right away!
Meet the Dentist
Dr. Jason Tubo is an experienced dentist who is committed to continuing education, which allows him to provide amazing treatment options, including custom-made dentures. Plus, he places and restores dental implants in Whitinsville as a more secure, stable solution. To schedule an appointment, he can be contacted through his website or by phone at (508) 234-8107.
Comments Off

on Are Ill-Fitting Dentures Dangerous? Find Out Here!
No Comments
No comments yet.
RSS feed for comments on this post.
Sorry, the comment form is closed at this time.