November 28, 2020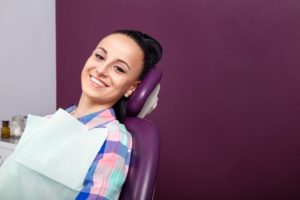 Dental implants come with numerous unique advantages that you simply can't get with any other tooth replacement. However, the spotlight is usually on the ways they can improve your oral and overall health. That's why it's time to showcase some of the less obvious cosmetic benefits of dental implants in Whitinsville. Read on to see how dental implants can positively impact your appearance in addition to your health!
Fuller Facial Structure
One of the most significant benefits of dental implants is that they stimulate the jawbone. When you lose teeth, your jaw lacks some of the stimulation it was once getting from the tooth roots. Other replacements that don't restore the tooth roots cannot provide the bone with proper stimulation to prevent it from deteriorating. However, rooted in the jaw, dental implants keep the bone healthy, full and strong. This can maintain a more youthful and healthy facial appearance.
Lifelike Restorations
Unlike other options, dental implants look, feel, and function just like your natural teeth. This allows you to be confident, ready to flash your smile at any moment. However, the way that implants are placed also allows your restorations to look extremely lifelike—the only one who will know your teeth were replaced is you! Because they're rooted in the jaw, dental implants make your restorations mimic the way your natural teeth emerge from the gums for the most seamless replacement.
Maintaining Alignment
Restoring your smile isn't just about filling in the gaps. In fact, getting dental implants will help preserve the rest of your smile, including your alignment. Your teeth rely on each other for support, which means even just one missing tooth can make the rest of your smile drift out of place. Thankfully, stable dental implants restore the spaces in your smile while keeping it in a straight position.
Simple Smiling
If you have dentures, then you're probably no stranger to the shifting or sliding that can occur when you're trying to do something as easy as smile. That's because prosthetics like dentures rely on suction, resting on top of your gums. Dental implants are the most sturdy and supportive solution because they are fused to the jawbone. This allows you to use crowns, bridges, and dentures like your natural teeth. Overall, you'll be able to easily speak, smile, and chew, which will help you look more relaxed and poised in any professional or social setting.
Are you ready to start enjoying these benefits? It all starts with contacting your cosmetic dentist in Whitinsville. After setting up your initial consultation, you can begin your journey toward the beautiful smile you deserve.
Meet the Dentist
Dr. Jason Tubo is a skilled dentist who has been awarded Mastership with the Academy of General Dentistry (MAGD). He puts a strong focus on cosmetic and implant dentistry, helping his patients achieve the smiles of their dreams. To schedule an appointment, he can be contacted through his website or by phone at (508) 234-8107.
Comments Off

on Dental Implants: The Surprising Cosmetic Benefits!
No Comments
No comments yet.
RSS feed for comments on this post.
Sorry, the comment form is closed at this time.