October 27, 2020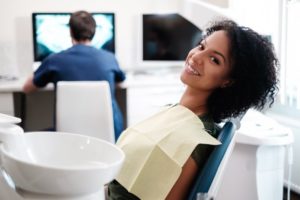 If you have a range of cosmetic flaws that affect your smile, you may be considering veneers as a solution. These thin shells of dental porcelain make imperfections disappear for unmatched results, however the treatment is slightly more involved than other cosmetic procedures like teeth whitening. That's why your dentist has included the step-by-step veneer process so you know exactly what to expect.
#1. Planning Your Future Smile
No two smiles are the same, which is why the first step you'll take is a consultation. You and your dentist will discuss the types of imperfections that affect your teeth and how veneers can correct them. Beauty is subjective, which is why veneers are completely customizable. You can select the size, shape, and shade of your veneers to literally achieve your dream smile.
#2. The Test Run
Before fully committing to treatment, there are a few ways that your dentist can allow you to take a sneak peek at your potential smile: digitally, with a model, or even personalized molds that you can see in your own mouth! This gives you a chance to take pictures for future reference or show your friends and family to get their opinions.
#3. Preparing for Veneers
Once your dentist provides you with a personalized treatment plan, they will schedule one of two visits. During this appointment, they will prepare your teeth for veneers by removing a slight portion of your enamel. This allows your dentist to place veneers for a seamless smile transformation. The amount removed will depend on your specific teeth and the results you want to achieve.
#4. The Creation of Your Veneers
After your teeth are prepared, your dentist will take special images and impressions, which are sent to a hi-tech dental lab. The experts at the lab will use the impressions of your smile to custom make your veneers out of quality dental materials. During this short waiting period of a few weeks, you'll be given temporary veneers to maintain your appearance. It's important that these provisional veneers look and feel how you want them to because the final treatment will be based on this temporary smile. After you and your dentist are happy with the results, the dental lab will personalize your final veneers.
#5. Completing the Transformation
Lastly, your veneers will come back from the dental lab and you'll attend your remaining appointment. Your dentist will ensure that you're happy with the results before permanently bonding the veneers to the front surfaces of your teeth, concealing a variety of flaws like chips, cracks, gaps, and much more.
Now that you know more about the veneer process, you can have ultimate peace of mind when beginning your treatment. Contact your dentist to get started on your dream smile.
Meet the Dentist
Dr. Jason Tubo is a skilled dentist with extensive experience and knowledge when it comes to cosmetic dental care. He even published a book that showcases some of his most advanced cosmetic cases! If you're ready to schedule a consultation, he can be reached through his website or by phone at (508) 234-8107.
Comments Off

on Veneers: The Step-by-Step Process of Smile Transformation
No Comments
No comments yet.
RSS feed for comments on this post.
Sorry, the comment form is closed at this time.