September 15, 2020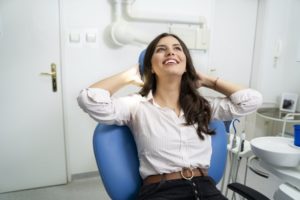 When you look at your smile in the mirror, do you think that it need some serious help? If so, you probably need a full mouth reconstruction in Whitinsville. Tooth decay, years of wear, and extensive damage may have taken a toll on your grin's function and beauty. However, a full mouth reconstruction can restore your teeth back to their full potential. Read on to learn about the 5 most common treatment options used to get patients back to smiling!
#1. Lifelike Dental Crowns
Dental crowns get their name because they cap or "crown" the entire visible portion of your tooth, strengthening and protecting it in the process. If you have broken, heavily chipped, or decayed teeth, your dentist may use dental crowns to restore the size, shape, and shade of your grin all at once. These lifelike crowns are personalized for your smile, seamlessly blending in with the rest of your natural teeth.
#2. Beautiful Partial or Full Dentures
Are you missing some or all of your teeth? Your dentist may recommend dentures. For a random pattern of tooth loss, they can use a partial denture to fill in the spaces like missing puzzle pieces. If you've lost all or most of your smile, a full denture can restore your appearance and function. This is a gum colored base attached to artificial teeth, which allows you to show off a beautiful smile once more.
#3. Strong Dental Implants
If you're looking for the best tooth replacement option available, choose dental implants. These are titanium posts that are surgically placed in the jawbone to act as artificial tooth roots for your restorations. In other words, dental implants are the only replacement that restores your teeth from the roots up for the most natural looking, feeling, and functioning smile. You'll be able to eat all your favorite foods without worrying about damaging your teeth.
#4. Dazzling Porcelain Veneers
If you have all your teeth still intact, but there are a variety of flaws like discoloration, stains, slight gaps, chips, and more, porcelain veneers could be the perfect option. These thin shells of dental porcelain are designed to cover the front surfaces of your teeth, changing their shape, color, and size in the process. This allows patients to literally pick out their dream smile with the ability to personalize each veneer for the results they've always wanted. The best part is that porcelain veneers fix a wide range of cosmetic imperfections all at once, they can be combined with other treatments, and they only take 2 appointments to receive!
#5. Convenient Dental Bridges
Are you missing multiple teeth consecutively? Your dentist can use a dental bridge to literally "bridge" the gap in your smile. The dental bridge is held in place with crowns on either side that are placed on top of the surrounding natural teeth. The result is a full and strong set of teeth.
Are you ready to get a smile you can be proud to show off? Contact your dentist in Whitinsville to get started on a one of a kind full mouth reconstruction.
Meet the Dentist
Dr. Jason Tubo is an experienced dentist who has advanced training in cosmetic dentistry and dental implants. He uses his extensive knowledge to treat even the most difficult of cases. If you have any questions, he can be contacted through his website or by phone at (508) 234-8107.
Comments Off

on The 5 Most Popular Options for Full Mouth Reconstruction!
No Comments
No comments yet.
RSS feed for comments on this post.
Sorry, the comment form is closed at this time.