August 9, 2020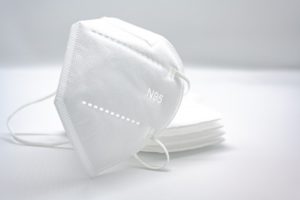 As you continue to adjust to life with COVID-19 as a threat, you probably understand the importance of wearing a mask. However, not all facemasks are created equal. In fact, there are different levels of facemasks that provide various forms of protection. Your dentist uses ASTM-rated facemasks for ultimate safety. Read on to learn about the different levels of facemasks as well as why you can have peace of mind when visiting your dentist's office.
The Levels of ASTM Masks
ASTM stands for American Society for Testing and Materials, and they have 3 different levels of masks:
Level 1
The first level is low barrier protection for general, low risk procedures. These are worn during nonsurgical treatments that don't have aerosols, sprays, or fluids. An ear loop mask you may be picturing in your head is a level 1 ASTM mask.
Level 2
The level 2 mask is used for low to moderate levels of aerosols, sprays, or fluids during dental procedures.
Level 3
A level 3 mask is worn for maximum barrier protection. This is any case where there is a potential for exposure to higher levels of aerosols, sprays, or fluids. The level 3 mask has the highest ASTM rating for superior protection.
The 4 F's of Mask Selection
When it comes to mask selection, your dentist employs these 4 F's:
Filtration: An n95 respirator filters the air allowing your dentist to help you smile while keeping you and everyone in the office safe.
Fluid resistance: Your dentist uses a level 3 mask, which is fluid resistant. This type of mask can also be placed on top of an n95 mask to keep it clean and fresh!
Features: The level 3 mask your dentist uses also has a variety of features, including ties, anti-fog film, foam and tape reducing fogging distractions as well as shields to even protect eyes during more involved procedures.
Fit: Even the best mask is ineffective if it doesn't fit properly. Your dentist ensures they are using masks that fit nicely over their mouth and nose for protection.
Additional Safety Steps
While using the right masks is paramount for the safety of patients and staff, your dentist has employed some additional advanced safety measures, including electrostatic air purifiers and negative pressure isolation. This new technology keeps the air you breathe in the practice extra clean and free of potential viruses. While the CDC and ADA say these systems aren't required in the practice, your dentist wants to do all they can to keep everyone safe.
Not all masks are the same and that's why your dentist uses the right protection. Remember the safety steps your dentist is using so you can have peace of mind during your next visit!
About the Practice
Whitinsville Family Dentistry is committed to ultimate safety for our patients. We have a team of 4 dentists who use the best masks available in addition to a number of sterilization steps we've done differently even before COVID-19. If you have any questions, we can be reached through our website or by phone at (508) 234-8107.
Comments Off

on What Are the Different Levels of Facemasks?
No Comments
No comments yet.
RSS feed for comments on this post.
Sorry, the comment form is closed at this time.