July 21, 2020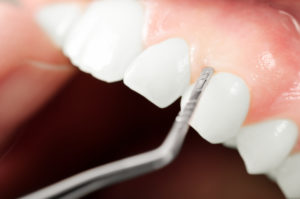 Modern technology has helped society in many ways, but one invention that has made a positive impact in multiple industries is the laser. The laser has revolutionized manufacturing, communication, the military, and so much more, but it has also made its way into dentistry. Although still relatively new, laser dentistry offers an effective and efficient way to treat gum disease without the need for invasive incisions or sutures. Read on to learn more about laser dentistry in Whitinsville and the unique benefits that come with it!
How Does Laser Dentistry Work?
While the word "laser" may seem intimidating when it comes to dentistry, this technologically advanced service actually results in increased comfort and speed. It utilizes a precise beam of light that delivers energy to remove the infected and inflamed gum tissue quickly and gently from around the tooth. From there, they can smooth out your tooth roots to make it harder for plaque and bacteria to collect under your gums in the future.
What Are the Benefits of Laser Dentistry?
Laser dentistry is quickly becoming the most popular form of gum disease therapy due to these amazing advantages:
Limits Bleeding
Laser dentistry doesn't only remove bacteria, but it also kills them. This helps reduce bleeding and swelling of the gums both during treatment and afterward. In some cases, it can even prevent you from needing additional treatment in the future.
Accelerated Healing and Recovery
The dental laser is much less invasive than traditional gum disease surgery, eliminating the need for scalpels and other instruments. As a result, the healing period is much shorter.
Customization
One of the best parts of laser dentistry is that it can be optimized and tailored to meet your exact needs. This is done by adjusting the wavelength and power levels, giving your dentist ultimate control over the entire process.
Convenience
The precision of the laser makes anesthesia unnecessary and your appointment more convenient overall. Without anesthesia, your appointments are easier and more convenient because you don't have to wait for it to take effect. Plus, laser dentistry is often painless and causes very little soreness after your visit.
Preserves Dental Health
Because the laser is so accurate, it can preserve healthy parts of your tooth while removing infected gum tissue, preserving more of your gums in the process. This leads to a faster recovery and also maintains the aesthetics of your smile.
Now that you know more about the benefits of laser dentistry, what are you waiting for? Contact your dentist to treat your gum disease in Whitinsville and get your healthy smile back!
About the Practice
At Whitinsville Family Dentistry, we have a team of 4 dentists who combine their knowledge and expertise to deliver a wide range of quality services for patients of all ages. Always remaining up to date with the latest technology, they offer laser dentistry for gum disease. If you have any questions, they can be reached through their website or by phone at (508) 234-8107.
Comments Off

on Why Every Dentist Should Offer Laser Gum Therapy
No Comments
No comments yet.
RSS feed for comments on this post.
Sorry, the comment form is closed at this time.