April 22, 2020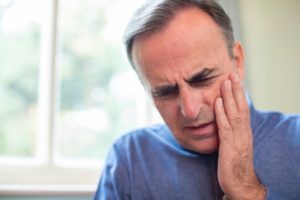 Did your tooth just start hurting out of nowhere? During this uncertain time, you may be wondering when it's actually necessary to visit your dentist. Should you break your quarantine and visit the dental office? A true dental emergency should always be dealt with as soon as possible, but how do you know when one is occurring? Keep reading to learn the answer so you won't be left second-guessing if you need to see your emergency dentist in Whitinsville.
Sudden Tooth Pain
Pain in a tooth can be surprising because it seems to come out of nowhere during your perfectly normal day. If this occurs, try rinsing and flossing your teeth to dislodge any irritating food or debris. If your discomfort persists, you're probably experiencing a toothache. This issue is typically caused by poor dental hygiene over time even though it seems to occur suddenly. Once you've recognized that you're having a toothache, call your dentist immediately for treatment. They can provide you with root canal therapy to remove the infected tissue without needing to extract your tooth.
A Loose Tooth
Is a loose tooth a real emergency? After all, it hasn't fallen out yet, so it can't be that bad? Wrong—adult teeth should never become loose as they are securely stabilized in your jawbone. So, if you do notice a loosened part of your smile, be sure to contact your dentist right away. A loose tooth can occur because of dental injury, but it also could be due to a deteriorating jawbone or a localized infection. In any case, a swift visit to your dentist in Whitinsville can be the difference between saving and losing your tooth.
Lost or Broken Crown/Filling
Dental crowns and fillings protect weakened or decayed teeth from pain while strengthening it as well. However, if you lose your dental restoration, the inner, more sensitive portions of the tooth are now exposed. This can cause extreme sensitivity, especially to hot or cold temperatures and with pressure. You can use dental cement at your local drugstore to reattach your restoration, and you can even reach for sugarless gum if you're in a bind. Once you're more comfortable, call your dentist for a proper restoration.
Swollen Jaw
While less common than the previous examples, a swollen jaw can be very serious. Sometimes, it's a sign of a salivary gland infection. If you have swelling in your jaw combined with a bad taste in your mouth, visit the emergency dentist as soon as possible. When a salivary gland becomes infected, it gets blocked, making it more difficult to wash away bacteria and break down food.
During this time, there is already enough uncertainty. That's why you can remember this information to know exactly when a trip to your emergency dentist is necessary!
About the Practice
At Whitinsville Family Dentistry, we have a team of 4 highly trained dentists who combine their knowledge and experience to provide exceptional dental care. With the doubt surrounding COVID-19, they want to ensure that you can recognize when it's vital to visit their office. For any questions, they can be contacted through their website or by phone at (508) 234-8107.
Comments Off

on Dental Pain? Here's How You Know If It's an Emergency!
No Comments
No comments yet.
RSS feed for comments on this post.
Sorry, the comment form is closed at this time.