March 30, 2020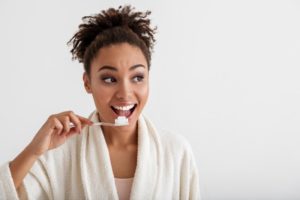 If you haven't ever experienced a dental emergency, consider yourself lucky. They are surprising and typically painful, requiring an immediate visit to your dentist's office. During COVID-19, this is easier said than done with most dentists closed. That's why it's important that you do all you can to avoid dental emergencies, especially now. Keep reading to learn some easy ways you can safeguard your smile from an experienced emergency dentist in Whitinsville.
The Right Way to Brush
If you brush your teeth, that's a great start, but are you cleaning your teeth effectively? Be sure to brush twice a day for two minutes each session, angling your brush at 45-degrees on the gumline for a thorough clean. Additionally, it's vital that you can recognize when it's time to replace your brush. You should get a replacement after 3 to 4 months, or whenever you notice your bristles starting to fray. Electric toothbrushes tend to provide a more thorough cleaning, so especially if you struggle with brushing, these products may be best for your smile.
Don't Forget to Floss
Brushing often gets the spotlight of attention when it comes to at home care, but flossing is just as significant! If you think about it, lack of flossing leaves 2 sides of each of your teeth susceptible to problems like cavities and decay. Plus, without removing plaque and bacteria off your gums, they have a higher risk of infection.
Stay Away from Sugar
A good oral healthcare routine extends to your diet! When sugar interacts with bacteria in the mouth, it creates acids that eat away at your smile. That's why it's a good idea to limit your intake of sweets during this time. You should especially watch out for sticky treats or sugary sodas because these items easily coat your teeth. If you must indulge in a sugary beverage, try drinking through a straw to avoid unnecessary contact with your teeth. You can also turn to chocolate in your time of need because it washes away easily.
Drink Water
Water should turn into your most consumed food/drink during this time. It's not only great for your body, but most tap water contains fluoride, which is a naturally occurring mineral that fights cavities. It can also strengthen teeth, remineralizing them when cavities are starting to form. Additionally, water helps produce saliva flow and helps to wash away lingering food debris and plaque. Tap water can be your savior during quarantine, especially when snacking may be at an all-time high!
During this time of anxiety, give yourself one less thing to worry about! Remember these tips to avoid dental emergencies and stay healthy.
About the Practice
At Whitinsville Family Dentistry, we want to help our patients keep their smiles as healthy and safe as possible during this uncertain time. If you do have an emergency, we have all of the dental services ready to get you out of pain. Please don't hesitate to contact our office through our website or by phone at (508) 234-8107 for any questions.
Comments Off

on Easy Tips for Avoiding Dental Emergencies
No Comments
No comments yet.
RSS feed for comments on this post.
Sorry, the comment form is closed at this time.