March 26, 2020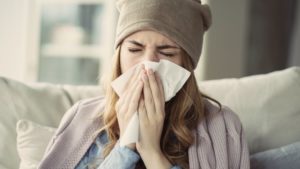 During the spread of the Coronavirus, you may be at higher risk of sickness, but it's also important to understand that it's still possible to get the flu and other illnesses as well. Symptoms like coughing can have a negative impact on your smile, causing you even more problems. That's why your emergency dentist has included some useful information about sickness, your dental health, and how you can keep your smile safe while under the weather.
Drink Lots of Water
One of the most common symptoms of sickness is coughing, which can completely dry out your mouth, allowing bacteria to grow. This increases risk of cavities, decay, and especially infection. However, by drinking water, you can combat dry mouth! Water promotes saliva flow to help wash away plaque and bacteria. Plus, most tap water contains fluoride—a naturally occurring mineral that helps fight cavities. Plus, studies have shown that hydration helps the body recover during illness.
Brush Your Teeth
Even though you're sick, it's still important to brush your teeth. Clean your smile twice a day for two minutes each session. Be sure to brush your gumline, angling the brush head at 45-degrees for a thorough cleaning. Once you're feeling better, replace your brush with a new one to avoid putting those germs back into your mouth.
Don't Forget to Floss
While brushing tends to get the spotlight when it comes to your oral healthcare, flossing is just as significant. Whether it's the medication you're taking, or certain foods in your diet, debris can get stuck in between the teeth and cause problems like decay and infection. However, by flossing daily, you can avoid these risks and keep your smile clean even while under the weather.
Clean Everything
With COVID-19, you're probably cleaning like crazy even while sick to try to minimize your risks. Your oral healthcare area in your bathroom should be no different! Make sure that you're putting on the cap to the toothpaste to prevent germs from getting inside. You should also always let your brush air dry after use because it can collect bacteria in cold, damp, or dark places. Lastly, be sure that your brush is at least 6 feet from your toilet. It sounds gross, but nasty bacteria from the bathroom can make its way onto your brush head.
There's no need to let your oral health fall by the wayside during sickness. Just remember these tips to keep your smile healthy even if you may not be feeling 100%.
About the Practice
While we have closed our doors during this uncertain time, we can still help in the event of a dental emergency. Until we open up, we want our patients to have the information they need to stay as healthy as possible. For any questions, we can be reached through our website or by phone at (508) 234-8107.
Comments Off

on Sick? Here's How to Keep Your Mouth Clean
No Comments
No comments yet.
RSS feed for comments on this post.
Sorry, the comment form is closed at this time.