July 9, 2022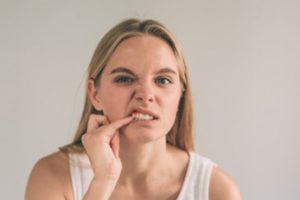 If you're tired of looking into your bathroom mirror and being met with a gummy smile, you don't need to fret or feel self-conscious; help is available! Many people these days are able to seek treatment for excessive gum tissue that affects the look and feel of their pearly whites. Here's more from your cosmetic dentist in Whitinsville about what causes gummy smiles and three possible treatment options for addressing them.
What Causes a Gummy Smile?
Gummy smile is a term used when a person's smile shows an excessive display of gum tissue, usually over 3 or 4 millimeters, that also makes their teeth appear smaller than normal. There are many different underlying causes for this excess growth of gum tissue, but a few of the common ones include:
A short upper lip caused by genetics.
Small teeth or excessive gum tissue also caused by genetics.
Tooth wear from grinding your teeth.
Overactive smile caused by hyperactive top lip muscles.
3 Treatment Options for a Gummy Smile
Fortunately, a gummy smile can be addressed with the help of your dentist! A few popular treatment options that can effectively treat it include:
Gum recontouring – This treatment is designed to carefully remove excess gum tissue from your smile. Most methods involve the use of a laser tool to remove this excess tissue; but if you're concerned about pain, you should know that local anesthesia is used so that you don't feel a thing!
Porcelain veneers – Your dentist can also use porcelain veneers to address a gummy smile; these ultra-thin sheets of dental porcelain will completely revamp the appearance of your teeth. Your dentist will bond them to the outer surfaces of your teeth, immediately giving them a uniform appearance. This method is often used in conjunction with gum recontouring, since gummy smiles cause the teeth to appear the incorrect length.
BOTOX – BOTOX injections can also be used to correct a gummy smile quickly and effectively, and they're also very cost-effective. The results can last anywhere from three to six months and the process requires minimal recovery.
If you have a gummy smile and it's bumming you out, it's not something that you have to settle for; treatment options are available! Talk with your dentist to see what they can do about your excessive gum tissue so your smile can look its absolute best for the foreseeable future.
About the Author
Dr. Jason R. Tubo has proudly served patients and families in the Whitinsville area for several years. Dr. Tubo received his dental doctorate from the University of Connecticut School of Dental Medicine and is a member of several professional organizations including the American Dental Association and the American Academy of Cosmetic Dentistry. He is also a Master of the Academy of General Dentistry. If you have any questions about the article or would like to schedule an appointment, you can contact Dr. Tubo through his website or by phone: (508) 234-8107.
Comments Off

on Gummy Smiles: What Causes Them & How to Treat Them
No Comments
No comments yet.
RSS feed for comments on this post.
Sorry, the comment form is closed at this time.